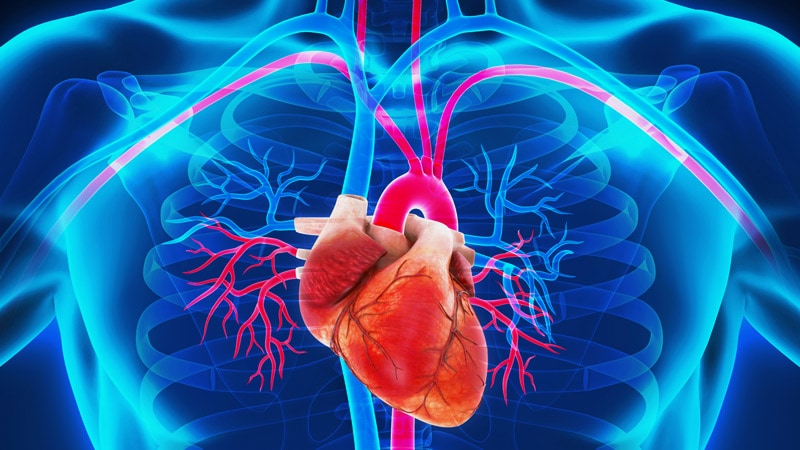 the to study covered in this summary was posted on medRxiv.org as a preprint and has not yet been peer reviewed.
Take away key
In the first study describing the extent of coronary microvascular collateral perfusion, researchers found that 60% of compromised myocardial perfusion is provided by collaterals, despite coronary occlusion and the absence of collateral vessels visible to the angiography.
why it matters
The presence of collaterals has been shown to be associated with better outcomes in patients with coronary artery disease. However, the extent of myocardial perfusion provided by collateral circulation during experimental balloon occlusion is described for the first time.
study design
In a retrospective substudy of a larger cohort, patients with no history myocardial infarction, bypass, or collaterals visible on angiography underwent elective surgery percutaneous transluminal coronary angioplasty (PTCA) to a single coronary vessel between September 1995 and April 1996.

1100 MBq of 99mTc-sestamibi was injected after 3 minutes of full inflation of the intracoronary balloon, and SPECT imaging of the vessels took place within 3 hours of injection (occlusion study). A second SPECT imaging study the day after PTCA with 1100 MBq of 99mTc-sestamibi was done (control study).

Occlusion ratio and extent of perfusion between occlusion and control studies were calculated. Statistical analysis was performed using R software and differences between groups were tested using the Wilcoxon test. A P a value
Principle results
ACTP was performed in 21 patients with a mean balloon occlusion time of 5 minutes.

The size of the perfusion defect was 16% of the left ventricle, and the collateral perfusion in the perfusion defect was 64% of normal perfusion in this region for the entire cohort.

Collateral perfusion was negatively correlated with the size of the perfusion defect (R2 = 0.85; P

On average, despite coronary occlusion and the absence of collateral vessels visible on angiography, the collaterals provide 60% of the perfusion that reaches the compromised myocardium.
Limits
The study included only 21 patients but was considered adequate for a point estimate and provided sufficient variability for myocardium underpinned by an occluded coronary artery.

Adoption of 99mTc-sestamibi after balloon deflation could potentially falsely increase estimates of collateral perfusion. Given that the average balloon injection time was 5 minutes and that 8% of 99mTc-sestamibi remains in the bloodstream after 5 minutes, the measured infusion results might have been overestimated by 8%.

Angiography of the contralateral vessel was not performed during balloon angioplasty inflation in this study. It is unknown whether collateral vessels can be visualized by angiography during balloon occlusion.

The analysis was performed on images not corrected for attenuation, which could overestimate the perfusion defect by 3%.
Disclosures
This is an abstract of a preprint research study, "Coronary collaterals not visible by invasive angiography may provide more than half of normal perfusion at rest in patients with coronary artery disease", written by Brandon Harris, Ravinay Bhindi, MBBS, PhD, Martin Ugander, MD, PhD, and Usaid Allahwala, MBBS, PhD, from the Kolling Institute at Royal North Shore Hospital and the University of Sydney, Australia. Stafford Warren, MD, of Anne Arundel Medical Center in Annapolis, MD, also contributed. Eva Persson, MD, PhD, from the Department of Clinical Physiology and Skane University Hospital in Lund, Sweden, also contributed. Michael Ringborn, MD, PhD, of the Chest Center at Blekinge Country Hospital in Karlskrona, Sweden, also contributed. This medRxiv study is brought to you by Medscape.