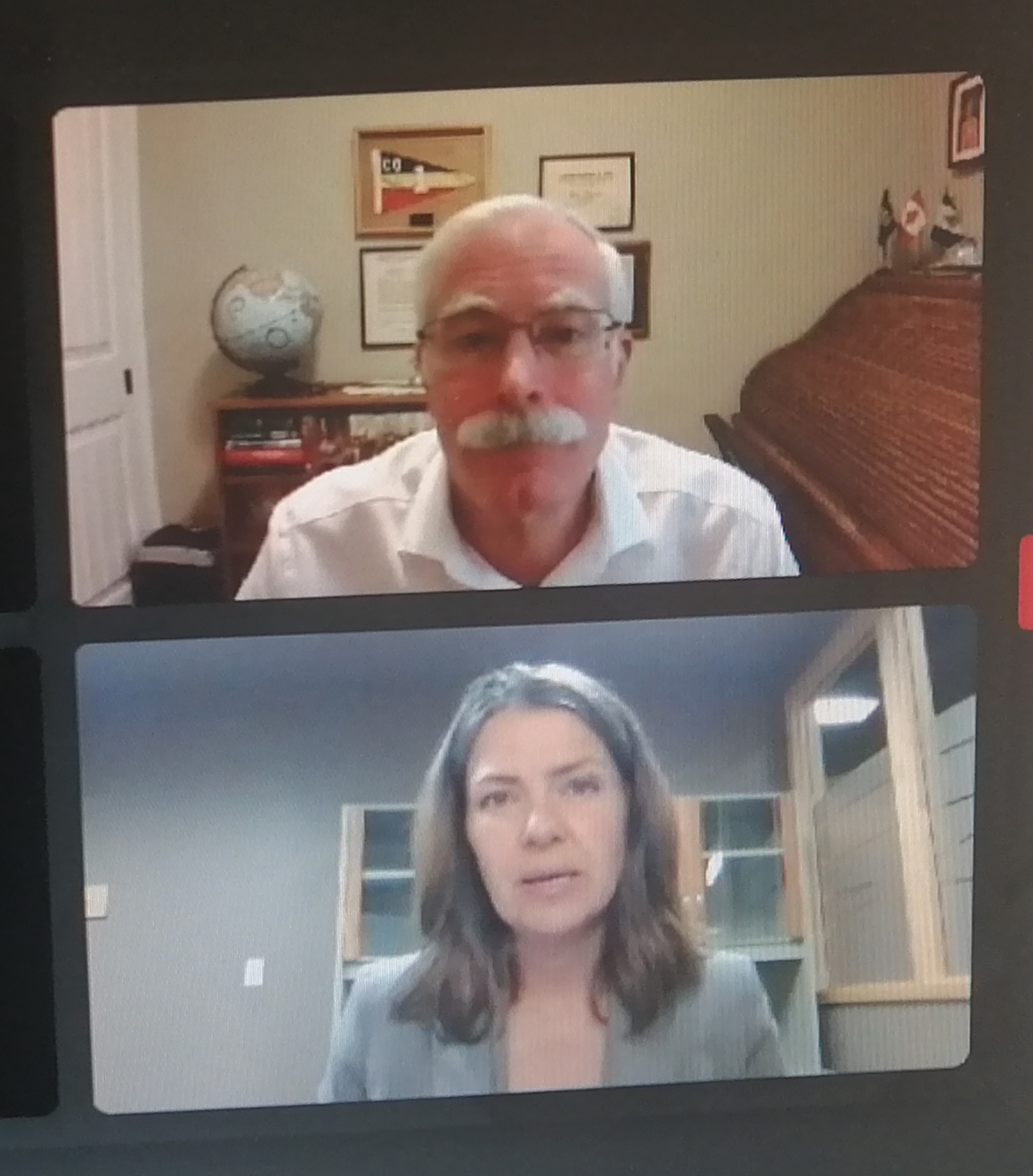 By Stan Ashbee Southern Alberta Newspapers on July 7, 2021.
Photo screenshot of Stan Ashbee Former radio host and politician Danielle Smith hosted a recent virtual webinar featuring David Redman.
In Canada – in an emergency and in the country's emergency management process – governments have predefined and pre-written plans, David Redman noted during a "Hot Topics" virtual webinar on July 7 titled "Beyond the Crisis: The real story on our government response to the pandemic.
As for those plans, said Redman, Alta., There's one that dates back to 2014 – "which I think was ignored."
Every province and territory in Canada had a pandemic response plan, Redman added. "And they're written about the hard lessons learned – which we've learned from all previous pandemics and other emergency response experiences."
Closures due to the COVID-19 pandemic, Redman argues, were the wrong approach to tackle the global pandemic in Canada. Redman, a retired electrical engineering graduate lieutenant colonel (according to an online biography) and former chief of Emergency Management Alberta, said the governments' approach had resulted in unnecessary deaths and undue economic hardship.
Redman explored the notion that the governments of Canada, both federal and provincial, have failed to formulate the appropriate response to the pandemic, while arguing that the use of blockages has cost lives and caused unnecessary damage to the 'economy. Redman was instrumental in Alberta's pandemic response plan in 2005.
One of the items listed in the province's plans is the use of non-pharmaceutical measures or "lockdowns," which Redman said should not have been used in the response to the COVID-19 pandemic.
According to 2019 documents from the World Health Organization and a number of infectious disease physicians – quarantine of those exposed and measures in the workplace and in schools "are not very effective for reduce the spread of the virus ".
"But, they cause serious collateral damage," Redman added.
In Alberta's plan, Redman explained, there were four goals listed in the 2014 document – slowing the virus and stopping it, making sure social disruption doesn't happen, making sure the economic impact is minimized and ensuring that the province uses resources wisely. . "We failed in four of those four goals. "
As for the Canadian response, Redman said it was "inconsistent" at best.
By February 2020, Redman continued, governments knew who was most at risk – 95% of deaths in China and elsewhere were in people over the age of 60, "all with severe multiple co-morbidities."
"These people were fragile. The average age of death worldwide is 84 with three or more co-morbidities, "Redman said. In Canada, up to 26,000 deaths have been recorded to date and over 90 percent of deaths have occurred in exactly this age group.
"We should have made a targeted response immediately. This is what emergency management requires. We should have looked at our long-term care homes and we could have come up with quarantine options, "Redman said.
"Instead, we just ignored it and pretended that locking down the entire company would make a difference and it clearly isn't – 25,000 of the 26,000 deaths in Canada are in this group of people. 'age and we failed them. "
Statistically, Redman pointed out, between ages 0 and 60 – "you are more than 50% more likely to die in a vehicle collision than to die from COVID-19." And, between the ages of 20 and 40, this age group is five times more likely to die as a victim of a vehicle than from COVID-19. Over 70, this age group is twice as likely to die from a heart attack as from the virus.
"COVID is just not this magical, horrible, deadly disease."
Of the 26,000 deaths, 73 percent of deaths in Canada occurred in long-term care homes.
"We followed a confinement practice, not a targeted practice. Even if we had spent a lot of money trying to overcome the pre-existing challenges in our long-term care homes, it could have cost a few billion dollars, but it would not have cost the 400 billion dollars that we spent to keep people healthy in their homes, "Redman said. "We should never have told people under 60 that this disease was anything other than a seasonal virus."
Redman said Albertans have been told the medical system is overwhelmed. "For me, this is absolutely the incorrect use of fear. We should never have been in danger of overwhelming our medical system. "
"The reason our hospitals and facilities are overwhelmed is that it's people over 60 with multiple co-morbidities that we haven't given targeted protection to who fill our hospitals and intensive care units and we don't. 'certainly shouldn't have stopped other medical procedures,' he said. added.
When emergency management agencies should have been tasked with developing concepts and plans, Redman said, "we handed it over to health."
"The blockages just don't work. "
As for the COVID-19 virus, he said, "you simply cannot stop its spread in an open and free democracy with an economy tied to the continent."
"It's very contagious.
The impact of the doubling of the national debt will also have a crippling effect on the Canadian health care system in the future, "not to mention mental health, the lack of funding for mental and societal health and our other health problems. serious – because we blew up the budget.
The lockdowns, Redman reiterated, did not save the country's elderly. "A targeted response most likely would."
"The use of blockages did not have a significant impact on the spread.
They didn't slow him down. The lockdowns have caused death and massive collateral damage and will continue to do so and "we knew they would," he said.
"Studies before the pandemic told us not to use them. "
Redman said that the Prime Minister of Canada, the Prime Ministers and the Ministers of Health of the country, "are responsible for this and they must be held accountable."
Going forward, Redman said, governments in Canada must ensure there is a written response and a recovery plan. "And we demand it of our prime ministers and our prime minister."
"We must always protect our most vulnerable," Redman said, and governments must ensure that this does not happen again.
The virtual webinar was presented by the Alberta Newspaper Group, parent company of the Lethbridge Herald.
A recording of the webinar is available at https://event.webinarjam.com/go/replay/140/7q58xsyxs3zb50fw
31